KIRBY MISPERTON SCHOOL
CENTENERY
1855 - 1955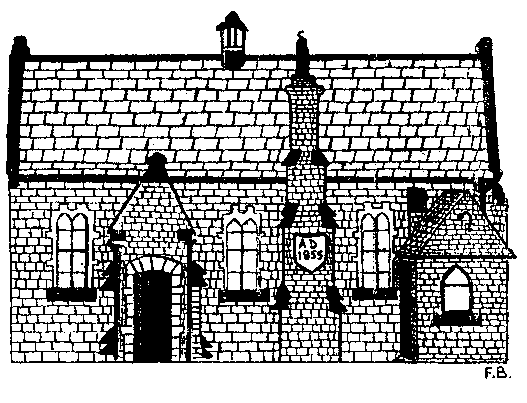 Rydale
Oh Rydale is a wide dale between the moors and wolds,
A land of becks and pastures, of cornfields and of folds.
The clouds rise high behind the moors and over Ryedale run
And eastward sail before the wind
While westward goes the sun.
* * *
A thousand years in Ryedale are as a single day,
For men work as they've always worked and talk in the same way
They shear their flocks and milk their kine, they plough, they sow, they reap,
And when they meet, their speech is of their oxen and their sheep.

* * *
Since Eve did spin and Adam delved with sweat upon his brow,
No better life has any found, nor is their happier now,
Than thus to dwell in Ryedale, between the moors and wolds,
A land of becks and pastures, of cornfields and of folds.
EDMUND HOPE, 1938
Rector of Kirby Misperton
---
Kirby Misperton
June 1955
In publishing this booklet, in connection with the Centenary of the school, I should like to thank the many friends who have so willingly supplied information, which I hope will be of interest.


(Head Teacher)
KIRBY MISPERTON SCHOOL
CENTENARY CELEBRATION
10th June, 1955
2 p.m.
Victorian Procession.
Display of dancing and Physical Education.
Exhibition of handwork.
Small Victorian Exhibition.
F. Barraclough (Secretary of Education for N. Riding) will be present.
7 p.m.
Display of dancing, etc.,
Talk by Councillor W.P. Baker of Ebberston entitled "100 Years Ago"
Chairman: Councillor K.G. Brisby.
A cup of tea will be served in the afternoon and evening with the Centenary cake made by Mrs. J. Harding.
KIRBY MISPERTON
KIRBY MISPERTON used to be called Chirchebi Myperton in the XI Century, and later Kirkeby Misperton. In Speed's map of 1610 it is called Kirby-over-Ker. This has been pronounced "Kirby Owker" by villagers for many years.
At one end of the village is the Church of St. Lawrence in days gone by called "The Kirk". Kirby is thus derived, which means "The church by". As Ker or Carr means low lying land, we gather that Kirby-over-Ker means "The church over the low lying land".
In the days of Edward the Confessor, there was a Church, Priest and Mill, valued at 3s. Kirby Misperton was one of the few places in Domesday Book 1085, which had increased in value to 20s.
In 1893 remains of the Lake Dwellers were found on the banks of the River Costa, close to Kirby Misperton.
BUILDINGS WHICH ARE MORE THAN 100 YEARS OLD
The Post Office.
The Rectory.
Ducks Farm.
The Hall.
Ivy House.
Horsley Farm.
Blacksmith Cottage.
IVY HOUSE (W. Harding & Son) was once a Public House called "The Nags Head".
DUCKS FARM, and also the old Manor Farm were at one time Public Houses. The old Manor Farm was a long, low, picturesque building, with roses climbing up the walls. It was for some time the Post Office, with Miss Baker the postmistress.
THE HISTORY OF KIRBY MISPERTON CHURCH
St. Lawrence's Church is built of stone. There was a church here in Saxon times, as there are several Saxon stones in the walls of the present church. William the Conqueror gave the village of Kirby Misperton to Berenger de Todeni, son of Robert de Todeni.
Some of the land of Kirby Misperton and Barughs Ambo and Ryton, came into the possession of Hugh Fitz Baldric about this date. Berenger de Todeni gave 1,600 acres of land in these parts to St. Mary's Abbey at York.
Hugh Fitz Baldric and Patrick de Coures gave a further grant of lands, church and rectory of St. Lawrence, to St. Mary's Abbey. John, Lord Abbot of St. Mary's, York, granted the advowson to Lord Ros of Hemlac (Helmsley). The advowson passed to the Earls of Rutland and Dukes of Buckingham from whom in 1755 the advowson passed to the Duncombe family, who are still the patrons, Lord Feversham being the present patron.
THE RECTORY
This is a Georgian Residence built between 1800 and 1820, of stone, some of which came from Rievauex Abbey. There are 27 rooms, 14 of which are in the wing. The previous Rectory, which was thatched stood in the vegetable garden. The present brick boundary wall between the Rectory, and the Church is very old, and dates back to Elizabethan times. It is expected that the wing of the Rectory will be demolished during the summer of 1955.
KIRBY MISPERTON HALL
This was probably built towards the end of the 18th Century and early 19th Century. At one time it was moated. It was the seat of the Rev. F.N. Blomberg, one of the Chaplains of King George IV and a prebendary of St. Paul's; he was said to be a son of George III. The estate, having passed to the crown, was presented to Blomberg by the monarch, when he was Prince Regent. Not far from the mansion is an obelisk, which was erected in 1812 by Dr. Blomberg, as a token of gratitude to his royal patron.
The Hall consists of 28 acres, there being two lakes in the grounds. Alderman Twentyman bought the Kirby Misperton estate in 1903 and lived at The Hall until his death in 1928.
After lying empty for 10 years the whole estate was sold in 1938. The Hall was bought by Mr. Ainsworth, but during the war years was occupied by the troops. In 1948 Mr. Tyler of Scarborough bought The Hall and then in 1950 it was opened as a Country Club by Major and Mrs. Stone.
VICTORIAN HISTORY
BUILDINGS.
Many of the houses standing now, were built in mid-Victorian times.
Red House 1857
Chapel 1864
High Row 1868
Rose Cottages 1869
Poplar Row 1869
Shop 1877
THE HALL.
The Tindall family came to live at the Hall in 1863 and left in 1903. For many years, the three Miss Tindalls, Henrietta, Mary and Jane, walked round the large lake every afternoon. There being 5 or 6 gardeners, the grounds were kept in a beautiful condition. Every Christmas, 2 pigs were killed, and the Miss Tindalls gave everyone in the village pork and ½ ton coals.
Four horses and carriages were kept, the coachman being Mr. Kellington. He was a most particular man and would wash and scrub the horses every time they had been out. Among other things he kept many canaries. Mr. Kellington died the night the Tindalls left the Hall. Sewing classes were held at the Hall for girls, on a Saturday, and on Wednesday afternoon for ladies. Mrs. J. Foxton went when she was 4½ years old and hemmed aprons.
For some years there was a woodwork and carving class at the Hall, where boys of 15 and over attended. The instructor came from Scarborough. One of the Miss Tindalls carved a Reading Desk or Lectern and presented it to the Church, where it still stands.
Each Friday, Miss Tindalls took religious tracts round the village and so visited every house. They also knitted and gave to each girl in the village, every two or three years, different coloured bonnets.
All the girls in the village curtsied to the Miss Tindalls, and the boys saluted.
SCHOOL
The Infants' School was at one time at the Red House. Mrs. Williamson taught there and the charge was 2d. per week.
The present school was originally built without the Infants' room. This was added at a later date. On the way to school were 6 poplars on the right-hand side of the road. Mrs. J. Wilson remembers going to school on top of the hedge, the snow was so deep. In the school playground, which was very rough, grew a beautiful chestnut tree, by the side of the West porch. On the stone window ledges, are deep notches, where slate pencils were sharpened.
The only way into the Cemetary was through the school playground. Mrs. J. Wilson recalls how, when her brother died, he was the last one to be taken through the school playground, and that shortly afterwards upon the death of her father he was the first one to be taken through the new gates.
Special Occasions.
Sunday School Outing to Scarborough was a red-letter day each year. Wagons which were specially decorated, took scholars and parents to Pickering at 6 a.m., to catch the 7.30 a.m. train. For the communal meals at Scarborough the Tindalls and Mrs. Hutchings (wife of Canon Hutchings), provided hams.
Thursday before Whitsuntide. Everyone went down to the cricket field for sports, buns and ginger beer.
Jubilee. A tea was held in the barn of Horsley Farm. The Hall grounds were opened to the villagers. Miss Tindalls gave mugs and medals to all the children.
Transport. 6d. return to Pickering in the carrier's cart - Mr. Metcalfe. He also brought the coals (18/- ton) and papers each day. On Saturday he went to Malton - 1/- return. These were very bumpy rides on poor roads, sitting on forms one behind another, and only an umbrella for protection against all kinds of weather.
It was customary for many people to walk to Pickering in those days. Mr. J. Wilson well remembers the penny-farthing bicycles in the village. The late Mr. W. Welburn was the first to have one. Mr. F. Ward recalls what excitement there was in the village, when the doctor from Pickering arrived on a bicycle with pneumatic tyres.
Wages. Farm workers 12/- to 15/- a week.
At the Blacksmith's Cottage lived Mrs. Gill who made toffee for ½d. a bag and ginger beer for 1d. a bottle.
Thatched cottages were pulled down and Poplar Row built. There was a ditch in front of the thatched cottages.
Prices.
1 dozen boxes of matches 1½d.
1-lb liquorice allsorts 6d.
The Parish Stable stood by the side of the pond. Those who came to Church on horseback, or pony and trap, tied their horses in this stable. Mr. John Wilson's father eventually bought these old stables. Mr. Wilson helped his father to make a set of hen houses from this wood. They can still be seen at Home Farm.
There were Stocks in the garden of Claxton House up to 1940 but unfortunately they were demolished.
The Village Pump. This was used until 1940. Many villagers had shoulder yokes, with which they carried pails of water. J. Pickering also led water from the Beck, by donkey and barrel cart for which householders paid 6d. a load.
A Pound, locally called "The Pinfold" stands at the corner of Habton Road. This was originally used to confine straying animals.
HEAD TEACHERS
From the earliest records obtainable, Mr. John A. Pickworth was here in 1872,
1883 Stephen Spink
1886 David Jones
1903 William Greenlay Mortimer
1917 H.H. Vicary
1917 F.A. Sargent
1920 W.S. Prudhoe
1926 Alfred C. Greenhalgh
1928 Miss E.M. Bowman
1932 Miss S.M. Jackson
1933 Mr. E. Weedon
1934 Mr. F.R. Tremain
1939 Mrs. F.E. Jackson
1939 Mrs. A.M. Towle
1942 Mrs. M. Cammidge
1944 Mrs. E.A. Hastings
1945 Mrs. M.J.W. Clarke
ASSISTANT TEACHERS FOR PAST 10 YEARS
1945 Miss A.Crome was here.
1946 April. Miss A. Crome left School to be married (Mrs. H. Boocock)
June to August ... Mr. Morley.
Sept. to December... Miss E. Hardy
1947 March to April ... Mrs. J. Edelstone.
May ... ... ... Miss B. Bratt
1950 May ... ... ... Mrs. W. Adamson
1954 September Mrs. M. Abé
FURTHER EDUCATION
1946 Noreen Cousins to Lady Lumley's Grammar School, Pickering.
1948 Maurice Foxton -ditto-
1950 Harry Martindale -ditto-
1953 Bernard Mackley to Scarborough Technical College.
1954 Brian Marshall -ditto-
KIRBY MISPERTON SCHOOL - JUNE 1955.
Head Teacher ... MRS. M. J. W. CLARKE
Assistant ... ... ... MRS. M. ABÉ
Infants:
Gordon Teasdale
Owen Peirson
Michael Welburn
Barrie Tindall
Martin Ward
Gordon Welburn
John Newby
Fred Moss
Trevor Moss
Anthony Spittlehouse
Ann Scaling
Janet Silverwood
Susan Buckley
Susan King
Susan Welburn
Heather Richardson
Margaret Myers
Kathleen Edmond
Barbara Spittlehouse
Juniors:
Roy Silverwood
Jennifer King
Peter Buckley
Marlene King
Judith Buckley
David Suggitt
Elizabeth Welburn
William Scaling
Bruce Richardson
Charles Scaling
Susan Teasdale
Kenneth Edmond
Joan Harrison
Seniors:
Geoffrey Cousins
Evelyn Welburn
Derrick Welburn
Rosemary Mackley
Ruby Martindale
Brian Teasdale
Norma Marshall
Christine Spittlehouse
Michael Ward
Carol King
John Teasdale
SCHOOL MANAGERS, 1955
Correspondent: Rev. F.A. Sadler.
Managers: M. Cousins K. Brisby E. Hunt E. Foxton A.J. Speck
School Caretaker: Mrs. E. Smith.
School Caretaker: 1917-1952 Mrs. B. Pearson
KIRBY MISPERTON SCHOOL CANTEEN
Opened - Nov. 1945 Cook: Miss E. Foxton
1951 Cook: Mrs. J. Harding
1954 Helper: Mrs. N. Foxton (meals sent from Pickering)
SCHOOL PRIZE
Mrs. W.P. Cousins is presenting a yearly prize to the boy and girl who show kindness, courtesy and helpfulness to others.
These will be: presented for the first time in July 1955.
CONSTITUTIONAL CLUB
This building was given to the village by Alderman J.R. Twentyman. It was opened in February 1924 by the late Mr. E.R. Turton, M.P. (uncle to R.H. Turton, the present Member of Parliament).
OFFICIALS 1924:
President: Ald. J.R. Twentyman; Chairman: W.J. Wilson Hon. Treas: H. Hood; Hon. Sec: D. Ward; Committee: W. Simpson, E. Crome, H. Simpson, F. Ward, G. Shepherd, T. Bramley.
OFFICIALS 1955:
Chairman: J. Harding; Vice-Chairman: H. Gill; Hon. Treas: E. Buckley; Joint Hon. Secs: S. Lister, E. Foxton; Committee: Mrs. J. Harding, E. Boocock, Mrs. S. Lister, E. Hunt, Mrs. B. Masterman, W. Welburn, Rev. F. Sadler. Caretaker: Mr. M. Gouch.
2nd June 1953 CORONATION OF QUEEN ELIZABETH II
President: Rev. F.A. Sadler. Chairman: Major G. Stone Hon. Sec. and Treas: Mrs. M.J.W. Clarke. Committee: Mrs. J. Harding, Mrs. J. Wilson, Miss M. Crome, M. Cousins, S. Lister, E. Foxton.
Through money raised for this occasion, a village seat was erected in the centre of the village and a new notice board was put nearby. Each child received a spoon. With voluntary help, under the direction of Mr. F. Richardson, the mass of bushes and rubbish round the village pump was cleared, and plants put in. This is still maintained by Mr. Richardson.
VILLAGE CHRISTMAS TREE
Christmas 1953 saw the first village Christmas Tree erected in the centre of the village. It was electrically illuminated, through the generosity of Mr. & Mrs. M. Cousins. It is hoped that this will be continued each year.
Kirby Misperton Councillor (Pickering Rural District): Major G.E.Stone
Electricity which is supplied by the North Eastern Electricity Board, was switched on in the village for the first time in January 1952
The village War Memorial is a granite cross, and stands by the disused village pump. It is inscribed with the names of those who fell in the 1914-18 war and the 1939-45 war.
Mr. E. Crome built the present Manor Farm, Claxton House, Kirby 0 Carr and Tuffit Manor (which is in the style of a castle) towards the end of the 1920's.
Oldest Inhabitant 1955. Mr. W.J. Wilson, born 1872, was a breeder of both Shire and Hackney horses. He exhibited and also judged at many of the principal Shows, including the London Hackney Show.
Mr. F. Ward, the only other native of the village, was born at Orchard House. Mr. Ward's father carried on a flourishing tailoring business which he originally managed for Mrs. Baker, commencing this about 100 years ago.
FARMS
| | | |
| --- | --- | --- |
| GREAT CARR FARM | Mr. Edmond | 225 acres |
| ELM TREE FARM | Mr. N. Alison | 208 acres |
| ALMA FARM | Mr. S. Dawson | 205 acres |
| LENDALES FARM | Mr. A. Scaling | 200 acres |
| SANDLANDS FARM | Mr. H. Gill | 178 acres |
| GLEBE FARM | Mrs. J. Gibbs-Smith | 123 acres |
| LOW BARNFARM | Mr. Sharw | 114 acres |
| HORSLEY FARM | Mr. H. Welburn | ll3 acres |
| DUCKS FARM | Mr. M. Cousins | 103 acres |
| KIRBY O CARR | Mr. H. Ward | 76 acres |
| HOME FARM | Mr. J. Botham | 75 acres |
| MANOR FARM | Mr. A. Hardwick | 63 acres |
| LOW CARR FARM | Mr. E. Boocock | 45 acres |
Kirby Misperton Acreage 1,792 acres; Population 189.
North Riding County Library at Constitutional Club.
Librarian: Mr. M. Gouch. Monday Evening 6 - 7 p.m.
VILLAGE OCCUPATIONS
The chief occupation is farming, but some are employed by the River Ouse Yorkshire River Board, and the Rye Internal Drainage Board.
SHOP - MR. J. BUCKLEY
COBBLER - MR. F. BUCKLEY
MASON - MR. CR0ME
JOINER & TAXI - MR. J. HARDING
CARRIER - MR. J. PICKERING
TAILOR - MR. F. WARD
FORESTRY COMMISSION - MR. N. CLARKE, MR. F. MOSS
FURGUSON TRACTOR REP. - MR. S. SILVERWOOD
HOOVER REP. - MR. S. TINDALL
COAL DELIVERER - MR. HAYHURST
N.R. COUNTY COUNCIL - MR. B. MASTERMAN
CORN & SEED REP. - MR. O. PEIRSON
NEWSAGENTS - MR. & MRS. S. PEARSON
KIRBY MISPERTON POST OFFICE, ORCHARD HOUSE
Post Mistress: Mrs. F. Ward; Post-men: Mr. F. ;Buckley, Mr. M. Gouch. Post-women: Mrs J. Hutchinson, Mrs. Bradley.
The Post Office is open daily from 9 a.m. - 12 noon and 1 p.m. - 6 p.m. There is one delivery each day and collections at 6.55 a.m. and 4.35 p.m. A collection on Sundays commenced on 10th April, 1955.
PLACES OF WORSHIP
St. Lawrence Rector: Rev. F. A. Sadler, M.A.,
People's Warden: C. Conning; Rector's Warden: A.J. Speck.
Organist: Mrs. S. Lister; Verger & Sexton: M. Gouch
Church Services every Sunday, 9-30 a.m., 6 p.m. Sunday School 11-20 am.
Methodist Chapel: Ministers: Rev. T.C.S. Welbourn, Rev. H. Fox. Society Stewards: P. Sedman, H. Mercer; Organist: F. Ward
Service 6 p.m. Sunday School 2 p.m.
Parochial Church Council
Chairman ... The Rector
Council: Messrs. D. Ward, F. Hunt, J. Moore, C. Conning, C. Rook, A.J. Peck.
Mesdames Sadler, Pike, Cousins, D. Ward, Tasker, Hayhurst, Harding, H. Boocock, S. Pearson, S. Dawson, Simpson, Easterley, Nellist, Bogg, Speck.
Misses Rook, Potts, Mallory.
* * * * * * * * *
FOOTBALL CLUB - 1954-1955
President: MAJOR STONE; Vice-Presidents: C. ROOK, K.G. BUSBY, N.ALISON L. NELSON, A.S. BULMER, F. SIMPSON, T. SHAW, J. ATKINSON, J.R. DAVIDSON; Chairman: S. DAWSON; Vice-Chairman: B. MASTERMAN Hon. Sec. & Treas: W.H. SMURTHWAITE; Asst. Hon. Sec. & Treas: J. HAYHURST; Committee: F. RICHARDSON, H. WELBURN, J.W. MOORE, T.TASKER, W. METCALFE, J. BROWN. Hon. Patrons: MRS. G. GLOVER, T. HORNBY, MISS H. MALLORY, F. WARD, J. SONLEY, C. PEARSON, MRS. J. GIBBS-SMITH.
CRICKET CLUB 1955
President: REV. F.A. SADLER; Vice-Presidents: E. BOOCOCK, MAJOR STONE, J. BOOTHAM, S. DAWSON, N. ALlSON , S. SHAW, H. GILL, J. HARDING, A. HARDWICK, W.J. WILSON, M. COUSINS, H. WELBURN, E. BUCKLEY. Hon. Sec. & Treas: E. FOXTON; Captain: E. BOYES; Vice-Captain: G. WHITEHEAD; Committee: E. BOYES (chairman), E. HUNT, J. MOORE, B. MASTERMAN, E. BOOCOCK, H. WELBURN, E. RICHARDSON, J. WAIND; Selection Committee: E. BOYES, G. WHITEHEAD, E. FOXTON, E. BOOCOCK, H. WELBURN
LADIES' CRICKET CLUB 1955
President: MRS. S. DAWSON; Vice-Presidents: MRS. W. BEAL, MRS. F. DOUGLAS, MRS. W. FLINTON, MRS. S. LISTER: MRS. L. LISTER, MRS. J. MOORE, MRS. J. SEAGAR, MRS. H. WARD; Joint Secs: MISS. A. BEAL, MISS S. FLINTON; Treasurer: MISS H. FLINTON; Captain: MISS M. DOUGLAS; Vice Captain: MISS H. FLINTON; League Sec. & Treas: MISS M. SEAGAR.
KIRBY MISPERTON W.I. 1955
President: MRS. R. KING; Vice-President: MRS. A. DOWSON; Treasurer: MRS E. FOXTON; Joint Secs: MRS. J. BUCKLEY, MRS. E. GILL; Press Correspondent: MRS. HAYHURST; Committee: MRS. E. BOOCOCK, MRS. H. BOOCOCK; MRS. SHAW, MRS. L. LISTER, MRS. HARDING, MRS. S. LISTER, MRS. EDMOND. Social Half-Hour: MRS. F. DOUGLAS, MRS. HARDING, MRS. R. SHAW.
RECTORS
1838 AUGUST DUNCOMBE, Dean of York.
1870 GEORGE BODDY, Canon of Durham.
1884 WILLIAM HUTCHINGS, Chancellor of York.
1914 FREDERICK DRAKE, Chancellor of York.
1928 ARTHUR ENGLAND, Archdeacon and Treasurer of York.
1938 EDMUND HOPE, Rural Dean of Pickering, and Archdeacon of Cleveland.
1946 FRANCIS AMBROSE SADLER.
KIRBY MISPERTON VILLAGE
| | |
| --- | --- |
| Sandlands Farm: | H. GILL; T. MOSS. |
| Bungalows Habton Rd: | E. BUCKLEY; R. SILVERWOOD; T. BUTTERICK; MRS. J. FOXTON. |
| Constitutional Club: | M. GOUCH |
| High Row: | C. SNOWDEN and C. BRINKLEY; W. RICHARDSON; E. HUNT; F. HAYHURST; S. PEARSON; H. MASTERMAN. |
| Blacksmith cottage: | F. BUCKLEY. |
| Ivy House: | J. HARDING and MRS. F. HARDING. |
| Shop Row: | J. PICKERING; J. BUCKLEY; MRS. DENNY. |
| Rose Cottages: | W. WELBURN; M. SMITH; T. TASKER; W. HESELTINE. |
| Red House: | E. CROME. |
| Grey Stones: | P. SEDMAN. |
| Poplar Row: | F. RICHARDSON; J. BOTHAM; A. DOWSON. |
| Ducks Farm: | M. COUSINS. |
| Claxton House: | S. TINDALL. |
| Ducks Farm Cottage: | J . BROWN. |
| Manor Farm: | A. HARDWICK. |
| Post Office: | F. WARD. |
| Woodlands: | (1) N.F. CLARKE; (2) F. MOSS; (3) H. ROBINSON & MRS. MYERS; (4) J. TEASSDALE; (5) E. FOXTON; (6) W. MARTINDALE; (7) S. WELBURN; (8) FREER |
| Park View: | O. PEIRSON. |
| Horsley Farm: | H. WELBURN. |
| Church House: | J. MOORE |
| Rectory: | REV. F .A. SADLER. |
| The Hall: | G. E. STONE. |
| Home Farm: | W. J. WILSON. |
KIRBY MISPERTON TELEPHONE NUMBERS
| | | |
| --- | --- | --- |
| ATKINSON. J.H. | White House | 218 |
| ATKINSON, S. | Bean Sheaf | 206 |
| BILLAM, L.E. | Deerholme Grange Marishes | 200 |
| BUCKLEY, E.H. & SON | | 202 |
| CAMERON, Lt.Col.B.A.F. | Grove House Farm | 223 |
| DAWSON, S. | Alma Farm | 226 |
| ELLIS, J.E. | White House Marishes | 240 |
| FLINTON, W. | Bedford Grange | 229 |
| GIBBS-SMITH, J. | Glebe Farm | 212 |
| HARDING, W. & SON | Joiners, Taxi | 216 |
| HARRISON, F.J. | Wath Hall | 227 |
| HARRISON, F.J. | Little Deerholme Farm | 228 |
| KIRBY MISPERTON HALL | | 221 |
| KIRBY MISPERTON CALL BOX | | 201 |
| LITTLE BARUGH CALL BOX | | 213 |
| MARISHES CALL BOX | | 203 |
| N.R. CONSTABULARY | Great Barugh | 222 |
| PRATT, J .H. | Howe Bridge | 209 |
| SADLER, Rev. F.A. | Rectory | 217 |
| SCALING, W.A. | Lendales Farm | 220 |
| SCHOLES, W.A. | Staines Farm | 224 |
| STONE, Major, G.E. | Kirby Misperton Hall | 221 |
| TINDALL | Claxton House | 251 |
| WILLIS, N. | Golden Sq. Marishes | 238 |
| WILSON, W.J. | Home Farm | 204 |
| WOODHEAD, G. | Costa Farm | 210 |
KIRBY MISPERTON COUNCIL HOUSES - NAMED "WOODLANDS"
| | |
| --- | --- |
| 1, 2, 3 and 4 | first occupied 1949 |
| 5 and 6 | first occupied 1952 |
| 7 and 8 | occupied in 1955 |
BUS SERVICE
The Ryedale Bus Service operates from KIRBY MISPERTON to PICKERING on Monday afternoon, and MALTON and PICKERING on a Saturday.

                *
               ***
              *****
************ ******* ************
              *****
               ***
                *

---