Kirby Misperton Constitutional Club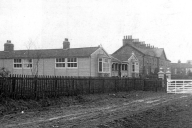 The Constitutional Club was built and given to the village in 1924 by the Lord of the Manor, James Robert Twentyman esq. It had a large dance hall, a billiards room, a reading room, a committee room and two-bedroom accommodation for the caretaker.
The first meeting of the Club's Committee was held on Monday 4th February 1924. Mr W J Wilson of Home farm was the first Chairman, Mr D Ward the Secretary and Mr H Hood the Treasurer. Mr Arthur West was appointed as Caretaker.
The club was official opened by Mrs Shaw of Welburn Manor on Friday 29th February 1924. The opening events included a public tea in the afternoon, a social evening from 7pm to 10pm and a dance (for which Mr Arthur Smith's Orchestra was engaged) from 10pm until 2am.
Membership of the club was 4 shillings a year, while boys between the ages of 10 and 15 were able to attend for 1/- a year. The Women's Institute also met at the club once a fortnight
The letting fees for the large hall were set at 10 shillings for local dances and 7/6 for local entertainments. For 'outsiders' the fees were £1-2-6 and 17/6 respectively.
The club house was demolished in 1991 to make way for the new Village Hall. The stone pillars which were originally either side of the entrance are now either side of the entrance into the Village Hall car park, and the metal pillars from the front of old club house have been incorporated into the porch of the new Village Hall.