---
Anatomy of a Letter Box
If you have looked at the other pages you will have gathered that not all letter boxes are the same. On this page is a diagram showing what the different parts of a letter box are called with a brief description of how they might vary. This is followed by some examples of Royal Ciphers and then Standard letter box dimensions.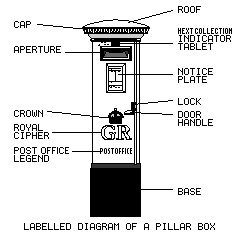 CAP

The top of a letter box may be referred to as the roof. The cap on a pillar box helps to keep rain out of the aperture.

INDICATOR TABLET

Indicates the 'Next Collection', usually with a number.

APERTURE

Sometimes referred to as the mouth. The height and width can vary. On modern post boxes a hood over the aperture helps prevent rain from entering. On some early Victorian boxes the aperture was placed vertically rather than horizontally.

NOTICE PLATE

The notice plate gives details of collection times. It may be an enamelled plate, some form of paper or cardboard notice, or made from plastic.

CROWN, ROYAL CIPHER & POST OFFICE LEGEND

The style and relative positions of these three items can vary greatly. For example on some GR boxes the crown is placed higher in comparison to the cipher than on others. See below for some examples of Royal Ciphers. On some letter boxes the words POST OFFICE appear either side of the aperture.

BASE

On pillar boxes the base is usually painted black. The name of the manufacturer can often be found either at the front or the rear of the base.
Royal Ciphers

Victoria
-1901

Edward VII
1901-1910

George V
1910-1936

Edward VIII
1936

George VI
1936-1952

Elizabeth II
1952-
Letter Box Dimensions
GR ,GVIR, and EIIR Pillar Boxes

| | Type A | Type B | Type C |
| --- | --- | --- | --- |
| Height | 5ft 4in | 5ft 4in | 5ft 3in |
| Diameter | 1ft 7¼in | 1ft 3¼in | |
| Width | | | 2ft 10½in |
| Depth | | | 1ft 10¼in |
GR, GVIR, and EIIR Wall Boxes (Overall Measurements)

| | Type A | Type B |
| --- | --- | --- |
| Height | 3ft 11in | 2ft 9in |
| Width | 1ft 8in | 1ft 1¾in |
| Depth | 1ft 7in | 1ft 1in |
Lamp Boxes

| | Early Pattern | 1937 Pattern | 1940 Pattern |
| --- | --- | --- | --- |
| Height | 1ft 7¾in | 1ft 8in | 2ft 0in |
| Width | 8in | 8½in | 10in |
| Depth | 1ft 0in | 1ft 0in | 1ft 1½in |
---
Copyright © Paul Wicks 2002